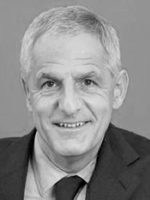 Prof. dr. J.M. Lange
AMC, Center for Poverty-related Communicable Diseases, AMSTERDAM
Nederland

Joep MA Lange (born 1954, Nieuwenhagen) (MD 1981, PhD 1987) is a clinical researcher from The Netherlands, specialising in HIV therapy. He is currently (2006) Professor of Medicine at the Academic Medical Center, University of Amsterdam and Senior Scientific Advisor to the International Antiviral Therapy Evaluation Centre, Amsterdam. He is also co-director of the HIV Netherlands Australia Research Collaboration (HIV-NAT), based in Thailand. Lange currently serves on Accordia Global Health Foundation's Scientific Advisory Board.
Lange is a former president of the International AIDS Society (2002-04). In 2001, he founded the PharmAccess Foundation, a not-for-profit organisation based in Amsterdam which aims to improve access to HIV/AIDS therapy in developing countries; he currently serves as Chairman. Lange is also the Scientific Director of HIV[e]Ducation, an online learning system for medical doctors, nurses and counsellors working with HIV-positive people.
He is a founding editor of the academic journal, Antiviral Therapy. Society memberships include the American Association for the Advancement of Science, American Society for Microbiology and International AIDS Society.
Sessies van deze auteur
donderdag 25 april 2013 om 9:15 - 10:45

Het begin van het einde van de HIV epidemie
Prof. dr. J.M. Lange